High voltage DC contactor supplier
Supplier introduction
Zhejiang Dongya Electronic Co., Ltd is a manufacturing enterprise of producing, developing and selling high voltage&low voltage DC contactor, relay, shunt as well as hydraulic circuit breaker.
The products are mainly used in many fields as follows: telecom system, new energy vehicles, electric vehicles, charging pile, engineering machinery, household electrical appliance, converter, solar PV and many other electronic control systems. Our products are exported to the United States, Canada, Italy, Brazil, Turkey, India, Mexico, Germany, New Zealand and many other countries and also sold in the regions of Taiwan and Hong Kong.
Dongya has advanced technology, equipment and rich experience, and also have all abilities and resources about the product design, mold manufacturing, parts processing, assembly, calibration and inspection. For many years, with the spirit of "preciseness, refinement, credibility and innovation", Dongya has always been improving the manufacturing technology and equipment to raise the level of technology and product quality.
TEL: 0086-577-62812228, 0086-577-62815712
FAX: 0086-577-62815722
E-mail: dongya@cndongya.com
product description
1.High Voltage DC Contactor DH20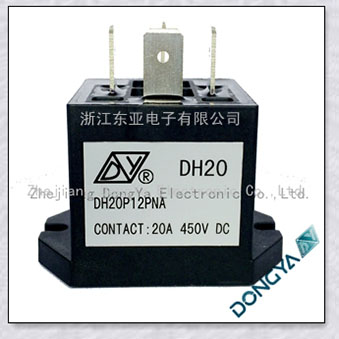 The design conforms to UL508 safety requirement,main contact is with 20A switching with load capacity&max. switching voltage 900VDC;
Small volume, light weight, seal structure for the main contact,working under inert gas protection, high breaking capacity,with no flash, can work continuously in the hostile environments;
Low coil power consumption, just 3.5W,effectively reduce the control loss, especially beneficial to be used in battery-powered occasions,extend the life of battery;
Flexible installation method and various coil voltage for selection,meet the practical demands maximumly;
With fast and safe connection mode, remarkably improve the installation efficiency and reliability;
All series products get UL508 certificate and comply with RoHS,reliable & environmental protection.
Precautions
1.The key feature of the end of electrical life is that the main contact insulation resistance does not meet the requirements;
2.No rule of the product installation direction , can be installed arbitrarily ;
3.When the product air-leaking or breaking fault current , please replace it immediately.
Outline dimensions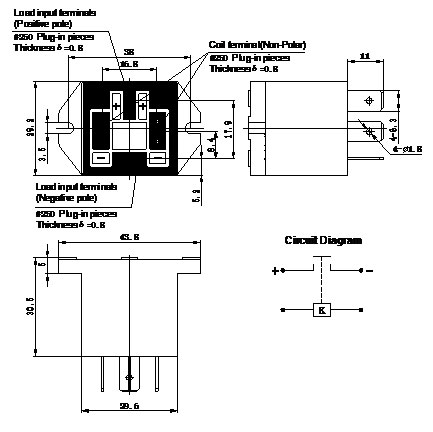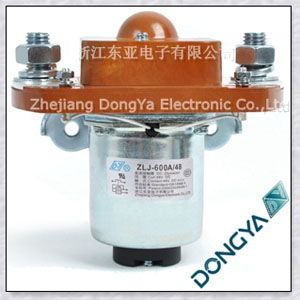 FEATURES
600A Contact Switching capability
SPST-NO Contact Arrangement
Coil Power Waste : 10W.
Application: For Electric Control System Of Communication Power Supply、Engineering Machine、Electromotion Forklift、Motor Car、Train、Watercraft and UPS etc.
Product specifications