DC contactor supplier
Zhejiang Dongya Electronic Co., Ltd is a manufacturing enterprise of producing, developing and selling high voltage&low voltage DC contactor, relay, shunt as well as hydraulic circuit breaker.
The products are mainly used in many fields as follows: telecom system, new energy vehicles, electric vehicles, charging pile, engineering machinery, household electrical appliance, converter, solar PV and many other electronic control systems. Our products are exported to the United States, Canada, Italy, Brazil, Turkey, India, Mexico, Germany, New Zealand and many other countries and also sold in the regions of Taiwan and Hong Kong.
We are professional DC contactor maker that are dedicated to providing high-quality products and excellent services for customers. Our main customers are Huawei, Delta, Vertiv, Siemens, ZTE, Baic Yinxiang, Sinexcel and so on.
TEL: 0086-577-62812228, 0086-577-62815712
FAX: 0086-577-62815722
E-mail: dongya@cndongya.com

product description
Normal Open 200A DC contactor ZLJ-200A, MZJ-200A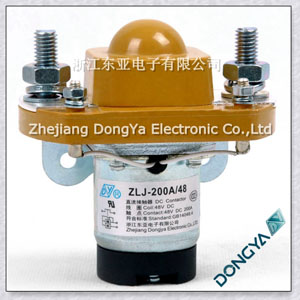 FEATURES
200A Contact Switching capability
SPST-NO Contact Arrangement
Coil Power Waste : 8W.
Application: For Electric Control System Of Communication Power Supply、Engineering Machine、Electromotion Forklift、Motor Car、Train、Watercraft and UPS etc.
SPECIFICATIONS
| | |
| --- | --- |
| Model No. | ZLJ-200A/ |
| Contact Arrangement | 1H (SPST-NO) |
| Contact Material | AgCdO(12) |
| Contact Rating(at Resistive Load) | 200A 48VDC |
| Max. Switching Voltage | 60VDC,250VAC |
| Coil voltage operating range | (85~110) % of coil rated voltage |
| Pick-up Voltage | (5~30) % of coil rated voltage |
| Contact Pressure Drop | At most 30mV when 100A |
| Insulation Resistance | Min. 100MΩ at 500VDC |
| Dielectric Strength | 1000VAC 50 HZ/60 HZ (1 minute) |
| (Between Insulated Electric Parts) |   |
| Operate Time | Max. 50mSec. |
| Release Time | Max. 50mSec. |
| Ambient Temperature | -40℃~+55℃ |
| The shocking of fixed point | (10~200)HZ、Acceleration≤3.5g |
| Shocking | (60~100) time/minute、Acceleration≤4g |

High Voltage DC Contactor DH100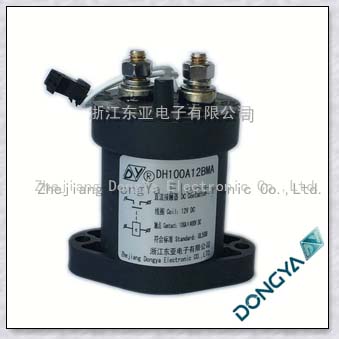 FEATURE
100A Contact switch capacity, Small volume;
A set of bridge type N.O.contacts contact circuit has "+", "-" polarity;
Application:Telecom equipment、Solar system、 Engineering machinery、Electromobile、Electric vehicle、Charging system、Train、Ships、UPS etc.;
Safety Approvals:CCC
Comply with the ROHS
SPECIFICATION
| | |
| --- | --- |
| Product No. | DH100 |
| Contact type | 1H(SPST-NO) |
| Rated load current of contact(Resistive load) | 100A(DC-1) |
| The max switch current | 1000A(320VDC) 1次 |
| Contact voltage drop | ≤80mV@100A |
| Switching voltage | 12~900V DC |
| Standard pick-up time | Max. 25ms. |
| (including contact bounce) |   |
| Contact bounce time | Max. 6ms. |
| Release time | Max. 10ms. |
| Vibration(Sinusoid、80~2000HZ、peak) | (80~2000)HZ,≤20g |
| Shock(11ms,1/2 Sinusoid、peak、pick-up) | ≤20g |
| Operating ambient temperature | -40℃~+85℃ |
| Storage ambient temperature | -55℃~+65℃ |
| Relative humidity | 20%~90% RH |
| Insulation resistance | Min. 100MΩ @ 500VDC |
| Dielectric strength | 2200VAC 50 Hz/60 Hz (1 minute) |
| (Between Insulated Electric Parts) |   |
| Electrical life | Please refer to diagram of resistance load life |
| Mechanical life | 300,000times |
| Mounted direction | Any direction |
| Pollution level | Ⅲ |

Remarks
1. The rated electrical life is based on resistance load test. The load max inductance≤300μH; If used with inductive load, please do contact the factory first.
2. The above curve is drawn according to the test and infer data. Suggest users confirm in practical use.
3. When the product's Dielectric withstand voltage、insulation resistance is less than the product parameters in the table, the product is defined as a life to an end.
4. Product max pick-up current is 300A to avoid contact cold welding