DC contactor supplier introduction
product description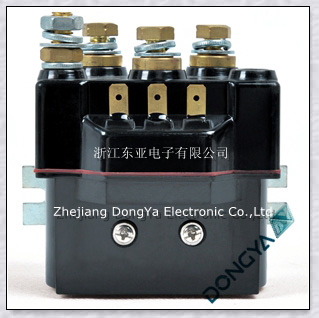 FEATURES
125A switching capability
DPDT
Power consumption is 16W
SPECIFICATION
| | | |
| --- | --- | --- |
| Model No. |   | ZLJM-125D/2Z |
| Contact Arrangement |   | DPDT |
| Contact Material |   | AgCdO |
| Contact Rating (at Resistive Load) |   | 125A 48VDC |
|   |   | 125A 250VAC |
| Max. Switching Voltage |   | 60VDC,250VAC |
| Over carry the electric current(7Ie/10S) |   | 875A/10S |
| Rated coil volt(V DC) |   | 12,24,36,48,60,120(etc) |
| Operating volt in | Pickup max | (40%~70% )of rated volt |
| cold state at (20±5)℃(vdc) | Release | ( 5%~30% )of rated volt |
| Contact Resistance |   | Max. 50mΩ(initial) |
| Insulation Resistance |   | Min. 100MΩ at 500VDC |
| Puncture (volt) Strength |   | 1000VAC 50 HZ/60 HZ (1 minute) |
| Operate Time |   | Max. 50mSec. |
| Release Time |   | Max. 50mSec. |
| Ambient Temperature |   | -25℃~+40℃ |
| Relative humidity |   | +20℃达98% (up to 98% at +20℃) |
| Vibration freq.at the fixed position |   | 3g、1~50HZ(frep.1~10HZ,ampl.25/f2; frep.10~50HZ,ampl.250/f2) |
| Electric life(τ≤0.001S)(cycles) |   | 6000 |
| Mechanical life(cycles) |   | 100000 |
| Mounting directions |   | The contactors can be mounted vertically or horizontally,if mounted vertically the coil should be at the bottom |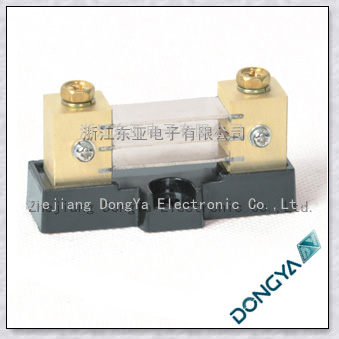 1. Use: The interchangeable shunts are used to multiply the measuring range of current of measuring instruments.
2. Application:For Telecommunications equipment、Electric cars、Aerospace、Charging station、Electroplating Power Equipment、Instrument and meter, Dc power system, etc
Main technical data:
Rated voltage drop range: 1A-150A 25mV~100mV;
Ambient condition-25~+40℃; Relative humidity≤80%(35℃)
Temperature rise: Put in rated current for 2hr, after the temperature rising steady test it: When the rated current less than 100A, the temperature rise should be no more than 80K; When the rated current more than 100A, the temperature rise should be no more than 120K.
Over load performance: 120% of rated current for 2hours.
Thermoelectric potential influence: no more than 50% of the index level.
Company Profile
Zhejiang Dongya Electronic Co., Ltd is a manufacturing enterprise of producing, developing and selling high voltage&low voltage DC contactor, relay, shunt as well as hydraulic circuit breaker.
We are professional DC contactor maker that are dedicated to providing high-quality products and excellent services for customers. Our main customers are Huawei, Delta, Vertiv, Siemens, ZTE, Baic Yinxiang, Sinexcel and so on.

Dongya has advanced technology, equipment and rich experience, and also have all abilities and resources about the product design, mold manufacturing, parts processing, assembly, calibration and inspection. For many years, with the spirit of "preciseness, refinement, credibility and innovation", Dongya has always been improving the manufacturing technology and equipment to raise the level of technology and product quality.
TEL: 0086-577-62812228, 0086-577-62815712
FAX: 0086-577-62815722
E-mail: dongya@cndongya.com