DC contactor BZJ-200A supplier
Company Profile
Zhejiang Dongya Electronic Co., Ltd is a manufacturing enterprise of producing, developing and selling high voltage&low voltage DC contactor, relay, shunt as well as hydraulic circuit breaker.
The products are mainly used in many fields as follows: telecom system, new energy vehicles, electric vehicles, charging pile, engineering machinery, household electrical appliance, converter, solar PV and many other electronic control systems. Our products are exported to the United States, Canada, Italy, Brazil, Turkey, India, Mexico, Germany, New Zealand and many other countries and also sold in the regions of Taiwan and Hong Kong.
We are professional DC contactor maker that are dedicated to providing high-quality products and excellent services for customers. Our main customers are Huawei, Delta, Vertiv, Siemens, ZTE, Baic Yinxiang, Sinexcel and so on.
TEL: 0086-577-62812228, 0086-577-62815712
FAX: 0086-577-62815722
E-mail: dongya@cndongya.com
product description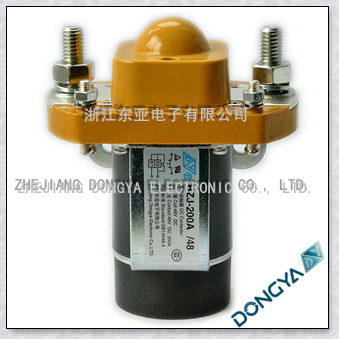 FEATURES
200A Contact Switching capability
SPST-NC Contact Arrangement
Application:For Electric Control System Of Communication Power Supply、Engineering Machine、Electro-motion Forklift、Motor Car、Train、Watercraft and UPS etc.
Technique Criterion:GB14048.4-2003
TUV File No.:50054080
CCC File No.:2004010304116987
UL File No.:E145623
PECIFICATIONS
| | |
| --- | --- |
| Model No. | BZJ—200A |
| Contact Arrangement | 1D (SPST-NC) |
| Contact Material | AgCdO(12) |
| Contact Rating(at Resistive Load) | 200A 48VDC |
|   | 200A 250VAC |
| Max. Switching Voltage | 60VDC,250VAC |
| Max. Switching Power | 50000VA |
| Endurance of Over Loading Current(7Ie/10S) | 1400A/10S |
| Coil Rated Voltage | (12、24、48、60、72、120 )VDC,etc. |
| Pick-up Voltage | (40~70)% of coil rated voltage |
| Drop-out Voltage | (5~30)% of coil rated voltage |
| Contact Pressure Drop | At most 30mV when 100A |
| Insulation Resistance | Min. 100MΩ at 500VDC |
| Dielectric Strength | 1000VAC 50 HZ/60 HZ (1 minute) |
| (Between Insulated Electric Parts) |   |
| Operate Time | Max. 50mSec. |
| Release Time | Max. 50mSec. |
| Ambient Temperature | -40℃~+60℃ |
| The shocking of fixed point | (10~200)HZ、Acceleration≤3.5g |
| Shocking | (60~100) time/minute、Acceleration≤4g |
| Mechanical Life | 100,000 Operations (no load) |
| Electrical Life | 50,000 Operations (at rated load) |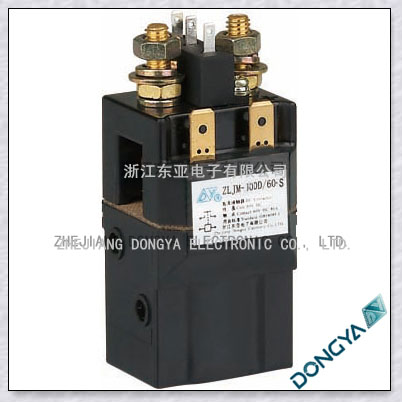 Features
100A Contact Switching capability
SPST-NO Contact Arrangement
Max. Coil Power Waste: 12W
Application:For Electric Control System Of Communication Power Supply、Engineering Machine、Electromotion Forklift、Motor Car、Train、Watercraft and UPS etc.
Technical Specification:GB14048.4-2003
UL File Number: E145623
SPECIFICATIONS
| | |
| --- | --- |
| Model No. | ZLJM—100D/ |
| Contact Arrangement | 1H (SPST-NO) |
| Contact Material | AgCdO(12) |
| Contact Rating(at Resistive Load) | 100A 80VDC |
|   | 100A 250VAC |
| Max. Switching Voltage | 80VDC,250VAC |
| Max. Switching Power | 25000VA |
| Endurance of Over Loading Current(7Ie/10S) | 700A/10S |
| Coil Rated Voltage | 12,24,30, 48, 60,72,96,120 VDC |
| Pick-up Voltage | (40~70) % of coil rated voltage |
| Drop-out Voltage | (5~30) % of coil rated voltage |
| Contact Pressure Drop | Max 30mv when at 50A |
| Insulation Resistance | Min. 100MΩ at 500VDC |
| Dielectric Strength | 1000VAC 50 HZ/60 HZ (1 minute) |
| (Between Insulated Electric Parts) |   |
| Pick-up Time | Max. 50mSec. |
| Release Time | Max. 50mSec. |
| Ambient Temperature | -25℃~+60℃ |
| The shocking of fixed point | (10~200)HZ、Acceleration≤3.5g |
| Shocking | (60~100) time/minute、Acceleration≤4g |
| Mechanical Life | 100,000 Operations (no load) |
| Electrical Life | 50,000 Operations (at rated load) |